People either don't realize or don't care that able-bodied people taking handicap spaces can be really difficult on those who suffer with disabilities.
In my opinion, us able-bodied people should do all we can to help make the lives of people with special needs easier – life in a wheelchair is hard enough without any added stress.
Parking spaces are marked with clear signs – so it's difficult to try to get away with saying you haven't seen them.
That said, if you have two healthy legs that can get you to and from a location, I say count your blessings and don't ever let laziness be the cause of inconveniencing someone who truly needs a disabled parking spot.
Sadly, a disturbing video connected to this subject in now spreading around the world. It shows a man being thrown out of his wheelchair and onto the floor of a Target, after an alleged argument over a parking in disabled space.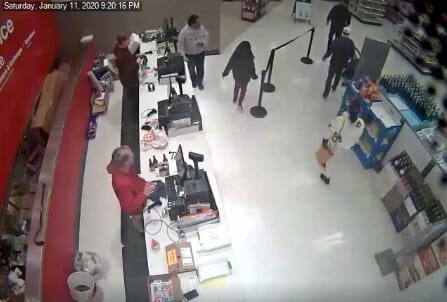 According to KPIX, the argument started outside Target, in the parking lot.
52-year-old Philip Kinstler – who has been wheelchair-bound for 30 years – tapped on the window of a woman's car to tell her that she parked in a disabled spot. According to Kinstler, the woman didn't have any disabled parking tags.
Their argument continued inside the store. One man, identified as Jimmie Tiger, 32, confronted Kinstler and demanded he apologize to Tiger's wife.
"I think they were going to take me out and both were going to work on me," Kinstler told KPIX.
Everything happened quickly. Kinstler, fearing for his life, was thrown out of his wheelchair. He tried to brace the fall with his left arm, resulting in a broken wrist. And sadly, no one in the store came to his rescue.
"The thing that hurt me the most is that people just stood there. They did nothing. All they had to do is stand in front of my wheelchair," Kinstler told KPIX.
Unfortunately, this incident will affect Kinstler for a long time to come. With a broken wrist, his life will be much more difficult. Kinstler depends on both arms in order to be able to maintain his independent lifestyle.
"I was just thinking, this guy knew exactly what to do to destroy me because without my wrist, no family, maybe nursing home and no guitar."
Tiger was later arrested and taken to the Martinez Detention Facility on charges of assault and kidnapping. He was later released after successfully posting bond.
In my opinion, there are so many shameful people in this video, including the other store customers who stood by and did nothing to help a man in need. This should have been stopped before it escalated to what it did, but then again people just don't care.
The post Man thrown out of his wheelchair after reminding SUV driver not to park in handicapped space appeared first on Newsner English.