Her career started as a teenage cosmetics saleswoman at a department store in Los Angeles, but after a chance audition at MGM Studios, Angela Lansbury went on to become a Hollywood legend. This self-described "Bionic woman" is still going strong at 94-years-old, born October 16, 1925.
It seems she was always destined to be a star.
"Actors are not made, they are born," she once said.
During over three-quarters of a century, she worked with and knew the biggest names during the Golden Age of Hollywood: Elvis, Judy Garland, Elizabeth Taylor, Beatrice Arthur, Bette Davis, and Bob Hope, to name a few.
Few if any actors today could dream of matching the mountain of awards Lansbury has gathered over the years.
She was nominated for an Academy Award for her first film in 1944, called Gaslight. The actress became the youngest actress to get two Oscar nominations by the age of 20. From there, the awards kept coming for films, Broadway plays, and musicals. She does it all and makes it look easy even today.
"Providing I can put one foot in front of the other, I will continue to act."
For millions of kids, she'll always be remembered as a singing teapot named Mrs. Potts in the 90s Disney film, Beauty and the Beast.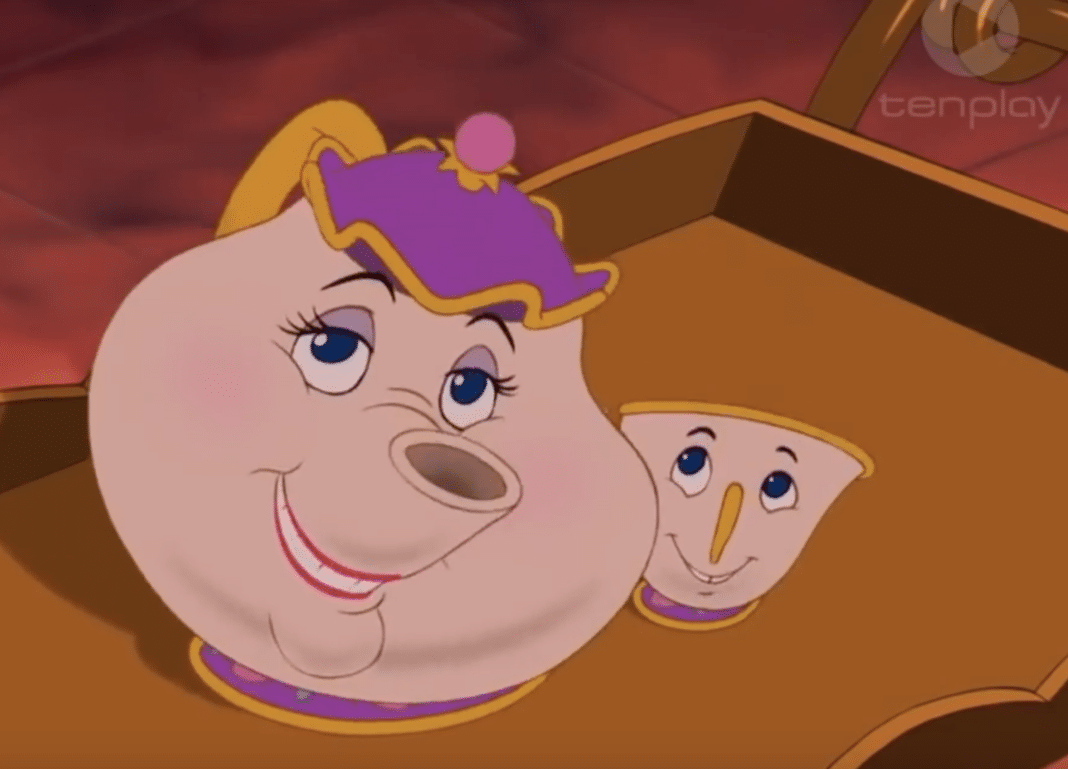 She is also beloved in the '71 film, "Bedknobs and Broomsticks," in which she portrayed Miss Eglantine Price, a British witch in training during World War II.
The actress also made a cameo appearance in the recent Mary Poppins Returns, as the Balloon Lady.
Below, she sang the Oscar-winning song once more at Lincoln Center for the 25th anniversary.
For an untold number of other fans across the world, Lansbury will always be known for her role as mystery writer and amateur sleuth Jessica Fletcher. The show, "Murder, She Wrote," aired for 12 seasons and 264 episodes, and Lansbury appeared in them all between 1984 and 1996. Lansbury had a major role in shaping the character from "loveable kook" to a smart, savvy investigator and "every woman."
"In the first place, she was showing as a rather kooky character. That's alright up to a certain point, but I thought, 'No, let's make her a smart woman," said Lansbury.
Although receiving Grammy, Emmy, Oscar, Golden Globes, and Tony awards or nominations, she is as famous for the fact that she never won the Emmy for Murder She Wrote. Instead, she was nominated almost annually for the show, an astounding 16 times. In her career, Lansbury is a record holder for the most Emmy nominations without a single win among performers with a whopping 18 unsuccessful nominations.
In addition to accolades for her acting and singing up to the present day, she has received the highest honors in the UK. She was awarded the Commander of the Order of the British Empire in '94 and later Dame Commander of Order of the British Empire in 2014. Her Majesty Queen Elizabeth II gave her this distinction at Windsor Castle on April 15, 2014.
Meanwhile, here in America, she was awarded John F. Kennedy Center Honors in 2000, and she has two Stars on the Hollywood Walk of Fame.
In 1951, Angela Lansbury became a naturalized United States citizen. However, she holds British, United States, and Irish citizenship.
Speaking about her heritage, she once said:
"I'm eternally grateful for the Irish side of me. That's where I got my sense of comedy and whimsy. As for the English half , that's my reserved side. But put me onstage, and the Irish comes out. The combination makes a good mix for acting."
Although often associated with motherly characters, Lansbury has often taken on and excelled at darker subject matter. For example, she originated the role of the villainous Mrs. Lovett on Broadway in "Sweeney Todd," about the murderous Demon Barber of Fleet Street.
This icon was not only blessed in her career but also lucky in love, marrying her soul-mate, Peter Shaw, and remaining by his side for 54 years. Sadly, the English actor and producer passed away in 2003.
She has continued to throw herself into her work and it seems she may continue to do so indefinitely.
"I rest, I take a nap, I don't eat stupidly, I take care of the bod and that's very, very important when you get to a certain age. I'm the bionic woman; I've got knees, hips, everything is new and that has made a tremendous difference to me; replacements are high on my list of goodies," she said.
Let's all wish her a very happy 94th birthday and many, many more. Who doesn't love this iconic star?
See an interview with Lansbury at age 92 from Studio 10 below:
---
Featured image: Screenshot via YouTube with a publicity shot of Lansbury from 1966 via Wikimedia Commons
The post The legendary Angela Lansbury turned 94 and is still going strong after a 75-year career appeared first on So Share This!.