A Texas teen is in danger of not being able to walk during his high school graduation all because of the length of his hair.
DeAndre Arnold recently received in-school suspension at Barbers Hill High School because his dreadlocks extended the length permitted by his school's dress code. DeAndre was also told he couldn't walk at graduation unless his dreadlocks were cut shorter to match the district's revised policy.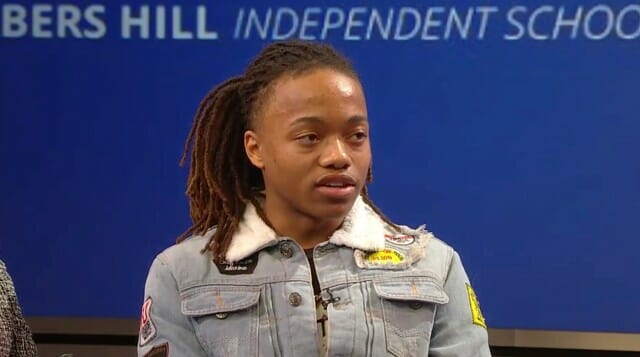 On Monday, many who supported the teen attended a school board meeting and voiced their opinion on the matter.
"You are in violation of the 1964 Civil Rights Act as it pertains to religious beliefs," Gary Monroe, with United Urban Alumni Association, said.
While DeAndre's family attempted to get the board to place the topic on an upcoming agenda, the school board members defended the district's position by stating the policy has been in place for 30 years.
"There is no dress code policy that prohibits any cornrow or any other method of wearing of the hair," Superintendent Greg Poole said, according to WTHR. "Our policy limits the length. It's been that way for 30 years."
"The dress code is designed by white people for white people and is damaging to black bodies," Black Lives Matter activist Ashton Woods said.
"This is a part of who he is: our beliefs," Sandy Arnold, the teen's mother, told KPRC.
DeAndre's family is from Trinidad and he said his dreadlocks are a part of his culture that he embraces. For years he's worn his hair in compliance with the dress code, "off the shoulders, above the earlobes, and out of the eyes," but suddenly now it's a problem.
"They say that even (when) my hair is up if it were to be down it would be not in compliance with the dress code. However, I don't take it down in the school," he said.
With graduation a few months away, no plans to cut his dreadlocks, and a school district that appears to be holding firm on their decision it's unclear what will happen.
Do you think the school district is being unfair to Deandre? Share this on Facebook and let us know.
The post Texas teen unable to walk at graduation unless he cuts his dreadlocks appeared first on Newsner English.