When you go out to a restaurant, how much do you tip your server? 15 percent? 20 percent? Maybe 25 percent if you're feeling generous?
Two regulars at a Michigan restaurant were feeling extremely generous before the start of a new decade and decided to surprise one lucky waitress by leaving her a tip like no other.
"They wrote on the receipt Happy New Year Danielle 2020 challenge," Danielle Franzoni told WXYZ. "I cried. I started crying and went right to my manager and asked if this was real."
Franzoni received a $2,020 tip on a $23 bill.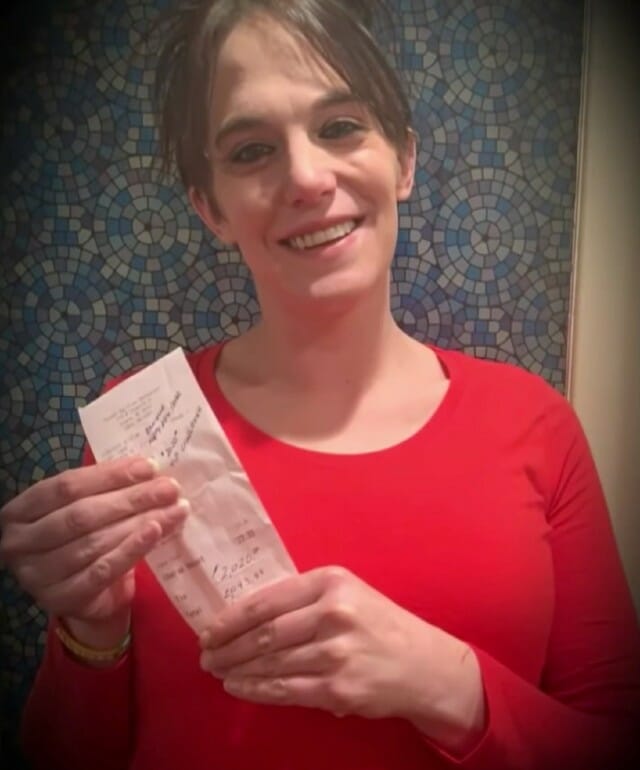 Franzoni, a single mother from Detroit, recently moved to Alpena, Michigan to "start over and get sober." She's made progress – on her way to two years sober from opioids – and now two strangers' kindness will help her even more.
"It's a blessing," she said.
When she moved to Alpena, she had nothing but the clothes on her back and found herself living in a homeless shelter before she found her current job at Thunder Bay River Restaurant. Now, the tip money will go towards her new home and a driver's license, something Franzoni hasn't had in a decade.
"They gave my kids a life that they don't even know that they didn't have. And I have a chance."
With a license, Franzoni will be able to visit her kids more often and teach her daughter to drive.
"I'm going to build a future because of this. My kids have a future and I have a home," Franzoni said. "It's a big deal. It's a really big deal."
This isn't the only instance a server has received a larger than normal tip. Donnie Wahlberg left a $2,020 tip for his server at an Illinois IHOP on New Years day.
Will you consider joining the #TipTheBillChallenge? Share this on Facebook to inspire others.
The post Single mother receives symbolic tip from strangers before the new year appeared first on Newsner English.