A marriage proposal is a huge life milestone, and it should be a special romantic moment for you and your significant other.
In today's world of social media, there can be pressure to make your proposal an elaborate, photogenic moment, but ultimately the important thing is that it's special and meaningful to you personally.
But that didn't stop some people for mocking one man's sweet but modest proposal when it went viral online… but in an inspiring twist, many others came rallied to his side, setting the stage for a dream wedding no one could've imagined.
This month, a South African man was spotted proposing to his now-fiancee in a pretty unassuming locale: a KFC restaurant.
The proposal was caught on video by a bystander named Kateka Malobola, and KFC South Africa shared the video on their Twitter account, congratulating the couple and trying to track them down.
But while many people supported the couple, a few negative people mocked the man for seeming cheap and low-class, most notably this woman's harsh tweet: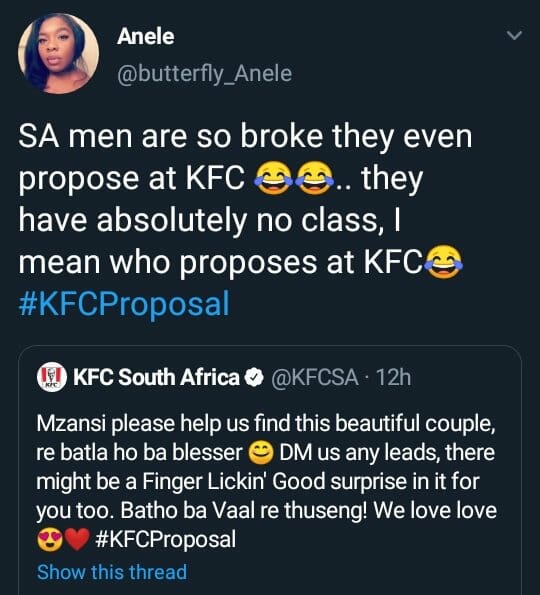 While the woman has since deleted the tweet, it gained enough attention that the internet leaped to the man's defense.
Soon the #KFCProposal was trending online… and many companies decided to chime in and offer their support by offering vouchers and free items for their wedding.
More and more companies reached out, and big expenses like wedding rings and honeymoon travel were suddenly being covered for free, all thanks to the unexpected viral fame.
No one was more surprised or moved by the runaway viral fame than Kateka Malobola, the man who took the video. He shot it only to share with his own friends on social media, and it just took off: "Then boom, the whole country's got a bloody wedding," he said in a Twitter video.
Molobola wasn't filming the couple out of mockery—on the contrary, he thought it was a romantic moment that took a lot of courage. "I'm not as brave as he is," Molobola said. "He went down in front of everybody at KFC… and proposed. It's genuine love."
And he had a message for the negative people online: "Let's not spread hate," he added. "Embrace this thing called love."
The couple was identified as Hector Mkansi and Nonhlanhla Soldaat. As their proposal went viral around the world, the couple came forward to tell their story.
It turns out, the proposal took more planning than you'd expect from the video: Mkansi got the servers to hide the rings in their meal to surprise Soldaat. The couple was just running their usual errands and stopped into a regular food stop—the bride-to-be never suspecting a thing.
"After shopping we usually sit and eat, but he had specifically asked that I wear my pink dress," she told Times Live. "He sent me to buy a drink elsewhere. I was surprised, because we could have just bought it there – but I went. Little did I know!"
It turns out this is also their second wedding. They got legally married in 2012, but expenses prohibited the kind of wedding they always dreamed of.
"My wife loves food – she loves chicken," Mkansi said of the KFC proposal. "But to be honest, this is where I can afford food for my whole family."
"I don't have money, so I can't afford the things I want to do for her. I wanted her to feel special and loved. I couldn't just throw them at her."
Luckily, the couple can now celebrate their love in style without having to worry about finances thanks to the kindness of strangers.
Love always wins over hate. Congrats to this happy couple for everything, and thanks to everyone online who stepped up to help them!
Share this inspiring story!
The post Man's KFC proposal was mocked online as cheap — now companies are sponsoring his dream wedding appeared first on Newsner English.