Every so often a story comes around that is sure to leave tears in your eyes. Tears of joy, that is.
Well, you're in luck, because today we've found such a story, one to remind you of the power of family values and the sheer love felt between one grandfather and his growing number of grandchildren.
One Oregon grandfather, Doug Hayes, is determined to give his grandchildren a special gift every Christmas. Even he might have outdone himself this year, though, by shopping a gift that's gone viral for all the right reasons.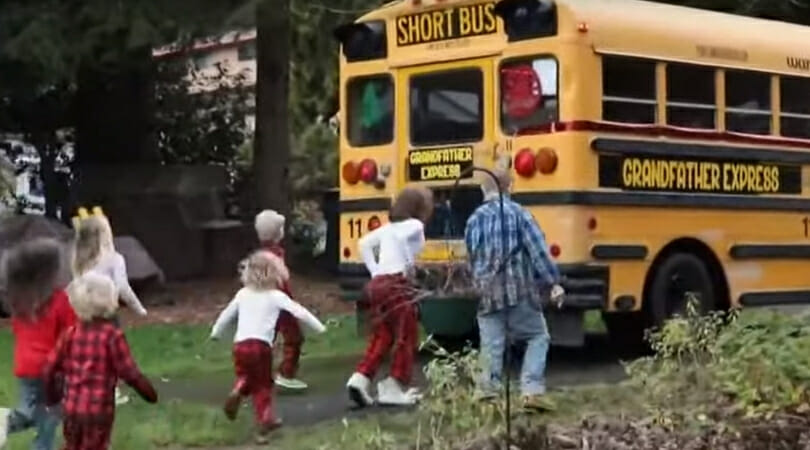 Let no one say Doug isn't the MVP of this Christmas when it comes to gifts for grandchildren.
The grandfather of ten decided he was going to do things a little differently, by gifting a bright yellow school bus.
A school bus? I hear you ask. Yes, a bus so that he can drive them all to school and spend some quality grandchild-grandfather time every day.
Fortunately, the video of his grandchildren seeing the present for the first time was uploaded to social media, giving everyone the chance to join in on the cheer.
"Is that it? You got a bus!" the kids can be heard asking, as they run towards their surprise.
When asked why he did it, Doug said: "I thought, gee whiz, maybe there's some way that I can give them a memory that will last all their lives."
As per reports, his grandchildren go to a small Christian elementary school that doesn't have any school buses. The bus has been named "Grandfather Express" and will give rides year-round.
Doug, now a part-time school bus driver it seems, devised the plan himself and we think it's an absolutely brilliant one! Who better to take you to-and-from school than your grandfather?
Doug, we take our hats off to you. Great work, sir!
Who else would like to give all their grandchildren rides to school each day? Share this article on Facebook if you would.
The post Grandfather buys school bus so he can take all 10 of his grandchildren to school every day appeared first on Newsner English.