College students living off campus during their senior year is not something that is out of the ordinary. College students living off campus with senior citizens in senior housing, on the other hand, is very unexpected.
This year a group of six Winona State University students moved into Senior Living at Watkins, an assisted living facility that's attached to a historic mansion in Winona, Minnesota.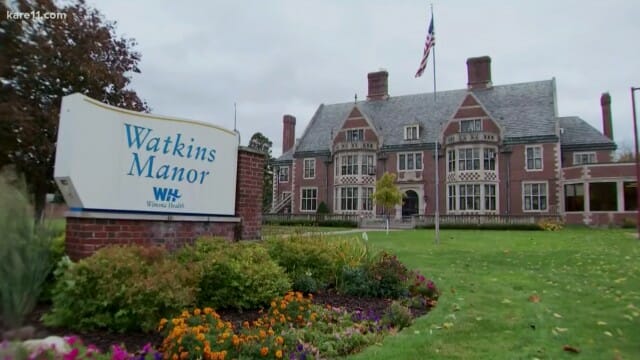 "It was just something very surreal," Joel Olson, a Winona State freshman, told KARE 11. "Whenever people ask me, 'Where are you living off campus?' and I'm like, 'In a nursing home,' and they're like, 'What?'"
The six students are part of a new Students in Residence program aimed at bettering the lives of both college students and the current assisted living residents.
In order to live in the century-old mansion, alongside the senior citizens, students had to apply for the intergenerational program.
Once accepted, students must volunteer at least 10 hours a month. In return they receive cheap rent and a few new friends.
So far it hasn't proven to be an issue for the students or their dormmates.
Students offer all kinds of services from computer help to free manicures.
Hanna Rottier, a nursing student, is one of the six students who live amongst the senior citizens. At first she was unsure about the experience, but it's proven to be worth it.
"I didn't know exactly how we would interact with one another, but it's really worked out super-well," she said.
Even though the students aren't living with their peers, they've found the residents at Senior Living at Watkins have become their family.
"I'll skateboard in and they'll wave to me out the window – those little things that make it feel like home," Ashley McGaw said.
Students are encouraged to eat dinner with the residents.
Next year the program hopes to welcome even more students.
"I hear residents wondering how the students are doing with their studies. 'Are you eating enough, are you getting enough fruits and vegetable?'" Cheryl Krage, assisted living director at Winona Health, said.
"It works because I think we are all connected," she said. "Just watching them laugh and have banter back and forth," she says, "our hope of the program was there would be those connections."
What an amazing program for both the students and senior citizens. Not only does it give students the opportunity to work in their potential career field, but it gives the residents someone to interact with. This makes me smile.
Share this on Facebook if you think more colleges and assisted living facilities should team up like this!
The post Dorm living: New intergenerational program places college students among senior citizens appeared first on Newsner English.