Warning: Disturbing and graphic content
A young mother from Rivne City, Ukraine, is making international news after she allegedly beat her infant son black and blue and then went on a date as if nothing happened.
The baby, Mykyta remains in serious condition with possible skull fractures at the intensive care unit of Rivne Regional Children's Hospital. According to the Mirror, doctors said they had never seen a child beaten so badly.
Baby boy 'beaten by Ukrainian mother before she went on a date' https://t.co/Aj0Zs4uCEL

— Daily Mail Online (@MailOnline) October 17, 2019
Mykhailo Kulik, who heads the unit, told reporters:'
"We suspect that his skull is fractured but we cannot examine it now."
Kulik said the baby was found wearing extremely soiled clothing.
"I have never seen a baby in such a terribly neglected state. I think his mother has never changed his clothes nor used diapers. His skin is in awful condition," stated Kulik.
Neighbors at the shared hostel where the woman lived realized that she left the crying baby alone and fortunately decided to check on him. When they saw the condition of the baby, one witness fainted. The others immediately called an ambulance and the police.
"When we entered the room, we saw Mykyta in his crib," said neighbor, Tetiana Prymak.
"His right eye was black. His nose was blocked with baked blood, and he was barely breathing.
"We started changing his clothes and saw black bruises all over his body. One woman who was in the room fainted after seeing all this."
Upon arriving on the scene from her date, the mother, who could be 19, was taken to the police station for questioning.
"The mother said that she was stressed out because of the baby's constant crying. She left the baby home alone and went on a date," said police spokesman Anton Kruk.
A responding social service psychologist, Yulia Tkachenko, found herself crying after seeing the child and speaking to the mother. Apparently, the mom blamed the cold in the building for the state he was in.
"There are no doubts that the baby was brutally beaten up. The mother said that 'she did not touch Mykyta and that his injuries were caused by cold draft'" said Tkachenko.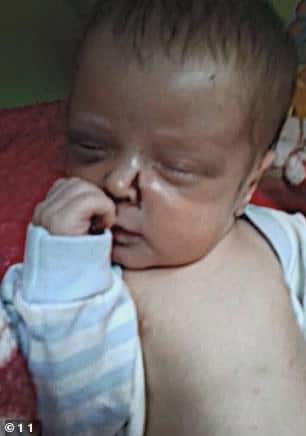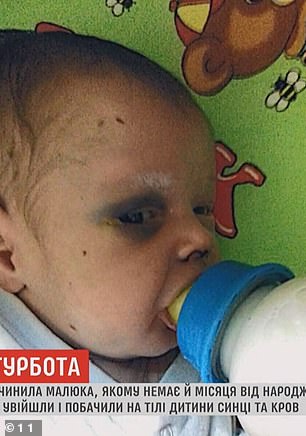 If she is found guilty of battery and failing to perform her duties as a mom, the woman could face five years of prison time.
Of course, her baby is now in the protection of social services. The fate of the baby, if he survives, will be in an orphanage now.
"The mother is going to be deprived of parental rights. The baby boy will be taken away from her and placed into an orphanage," said Andriy Mishchenia, the head of Rivne Child Protection Service.
Mykyta may not be the only child this woman abused. According to the Mirror, the man who ran the hostel where the woman resided said:
"The mother has an older son. She gave him birth at 16, and he is three years old now. The child was taken from her to a rehabilitation center because of domestic abuse."
Meanwhile, Mykyta's 27-year-old father is reportedly not interested in what becomes of the baby. Another man fathered the baby's older sibling.
We wish Mykyta a fast recovery and pray that he will find a new loving home where he will never face abuse again. As for the negligent mother, a five-year sentence doesn't really seem nearly adequate if she is found guilty of such atrocities.
---
Featured images: Screenshots via Facebook
The post Baby fighting for his life after mom beats him and goes out on date – he needs our prayers appeared first on So Share This!.