World War II changed the course of history, and to this day we owe our gratitude to the people who fought for freedom all those decades ago.
We're lucky to still have veterans of the war with us today, able to share their firsthand accounts of the war and keep the history alive for generations. Sadly, as time passes fewer and fewer of these heroes are left.
The Scottish woman Anne Robson, believed to have been the oldest living female World War II veteran in the U.K., has died at 108.

She served in the women's branch of the British Army during the war against Nazi Germany, as a senior commander. Anne was in charge of the fitness of all women in the Auxiliary Territorial Service, according to The Courier.
The Auxiliary Territorial Service was created in 1938 by order of George VI. More than 250,000 women, one of the most famous being the then Princess Elizabeth, wore the uniform of the ATS during World War II.
Anne, who lived in a residential care home in Edinburgh, Scotland, passed away on Jan. 20, according to the Women's Royal Army Corps Association.
According to the same association, many described Anne as reserved and very gentle but she was also "fiercely independent" with a "naughty sense of humour".
"It was while she was teaching that WWII broke out. After hearing that a women's section of the army was being formed, she decided that there was no better way to get involved," the association said.
Born Gladys Anne Logan MacWatt on Sept. 14, 1911, this iron lady witnessed many historical events throughout her life. She saw the suffragette movement win the vote for women in most parts of the Western world and lived through both world wars. She witnessed 20 British prime ministers, four monarchs and the space launch.
When Anne was celebrating her 107th birthday, she looked back on her childhood memories. She remembered falling "head over heels" while riding her horse and hiding under the kitchen table during the First World War "hoping I might survive".
Anne also remembered Victory in Europe Day. During the celebrations, she "had a naughty twinkle in her eye", according to the Women's Royal Army Corps Association.
Three years ago, Alyce Dixon passed away at age 108 in Washington D.C. Dion, one of the first African-American women in the U.S. Army, was at the time believed to be the oldest living female veteran.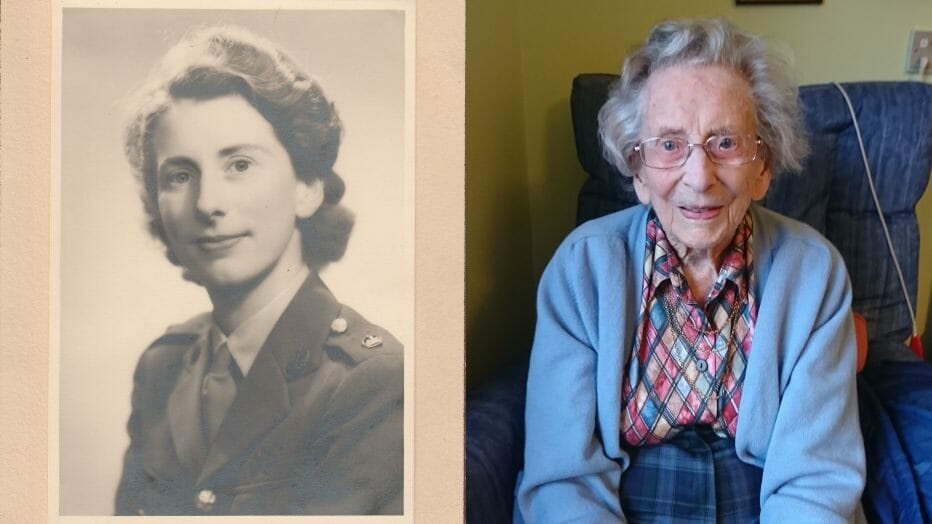 It's a little upsetting that we wait for these heroes to die before we recognize them, her picture and story should've been plastered all over Facebook while she was alive!
Rest in peace Anne! Thank you for your service, now you can rest in peace. Condolences to the family.
The post Anne Robson, believed to be Scotland's oldest living WWII female veteran, dies at 108 appeared first on Newsner English.