Turkey, pumpkin pie, cranberry sauce, and stuffing are just some of several foods we only seem to eat around the holidays. And with Thanksgiving just around the corner, it's time to break out your favorite recipe for everyone's least favorite dish, the green bean casserole.
According to a new survey by The Harris Poll for Instacart, cranberry sauce and green bean casserole are the top two least liked Thanksgiving foods.
68% of Americans dislike a classic Thanksgiving dish, but eat it because it's tradition.
The survey, which consisted of 2,000 U.S. adults, was conducted online and looked through trends and consumer data to arrive at the conclusion that even though some classics show up on tables every year, a lot of the time they're just there because it's tradition.
In addition to finding that 29 percent of people do not like canned cranberry sauce and 24 percent of people do not like green bean casserole, the survey concluded that 80 percent of those surveyed hosted a Thanksgiving meal.
How many regretted their decision? 17 percent.
If you're a picky eater or don't want to see a classic dish on your table, you're probably among the 59 percent of Americans who say they don't mind hosting so they can choose what dishes to cook.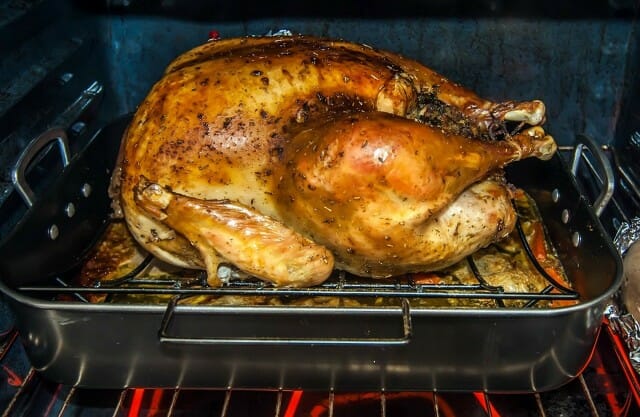 What about dessert?
Ninety-four percent of those surveyed admitted to eating pie on Thanksgiving and of those people, 21 percent of those people eat dessert even though they dislike it.
Pumpkin, apple, or pecan? Pumpkin pie reigns supreme as the favorite, while apple and pecan tie for second.
If, after cooking an entire Thanksgiving meal, you don't feel like baking a pie too, don't worry. Fourteen percent of those who responded to the survey admitted to purchasing a pie from the store and passing it off as their own.
So, this Thanksgiving maybe hold off on the green bean casserole—very few people eat it anyways.
Are you part of the 22 percent who dislike sweet potatoes or the 19 percent who don't like eating turkey?
Share this on Facebook and let us know your thoughts on the results of this Thanksgiving survey.
The post Americans eat green bean casserole on Thanksgiving simply because it's tradition, survey finds appeared first on Newsner English.